Feisty Products - 100% Suitable for Vegetarians & Vegans

Wait a minute, what's kimchi?
See out Frequently Asked Questions page.
Spicy Red Kimchi 배추김치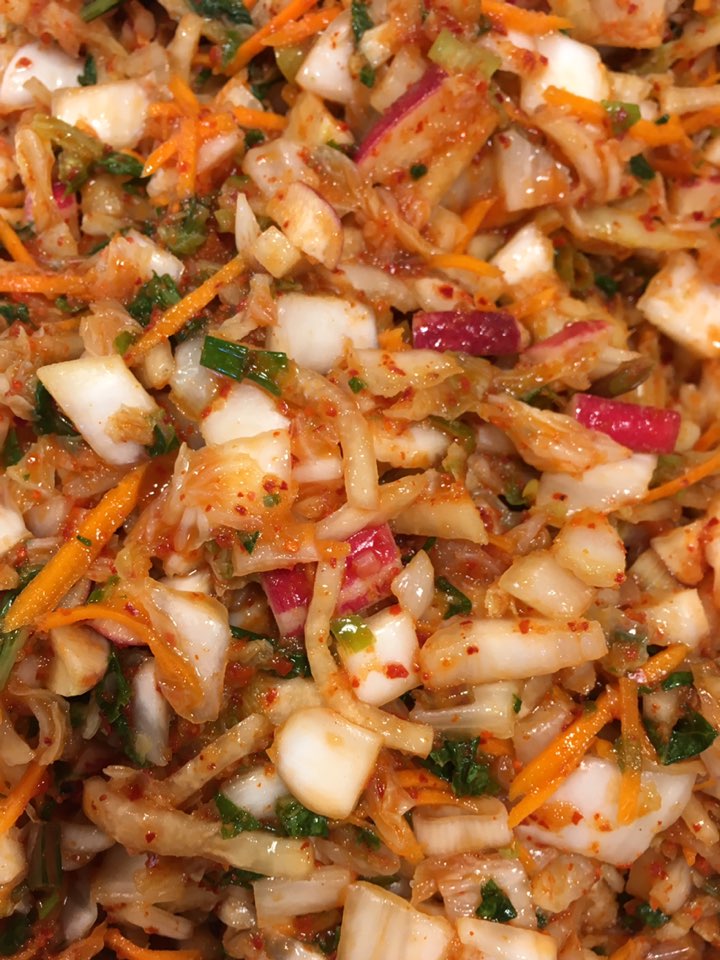 Our fabulous Spicy Red Kimchi is tangy, spicy, and nutritious! It is sure to tingle your taste buds. We use only high quality Korean red chili powder (gochugaru: 고춧가루) to add spicy heat. Seasoned with our special blend of veggies and spices, pickled in sea salt, our flagship condiment is sure to please as a side dish, to flavor your favorite main dish, or just as a snack by itself. While this is our spiciest offering, it is more of a medium spicy compared to other "spicy" foods found in many Asian cuisines or Chinese-style "kimchis".
Mild Red Kimchi 배추김치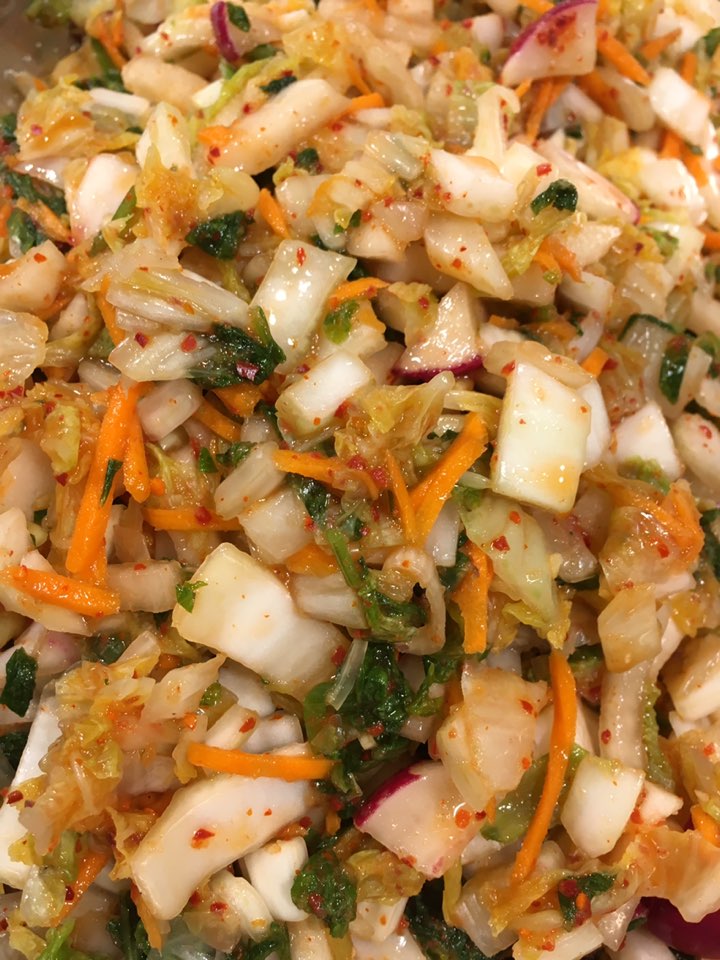 A toned-down version of our Spicy Red Kimchi, our Mild Red Kimchi will not dissappoint. With just the right amount of Korean red chili powder (gochugaru: 고춧가루), this kimchi boasts a balanced flavor profile where heat doesn't overpower the palate but still excites your tastebuds.
White Kimchi 백김치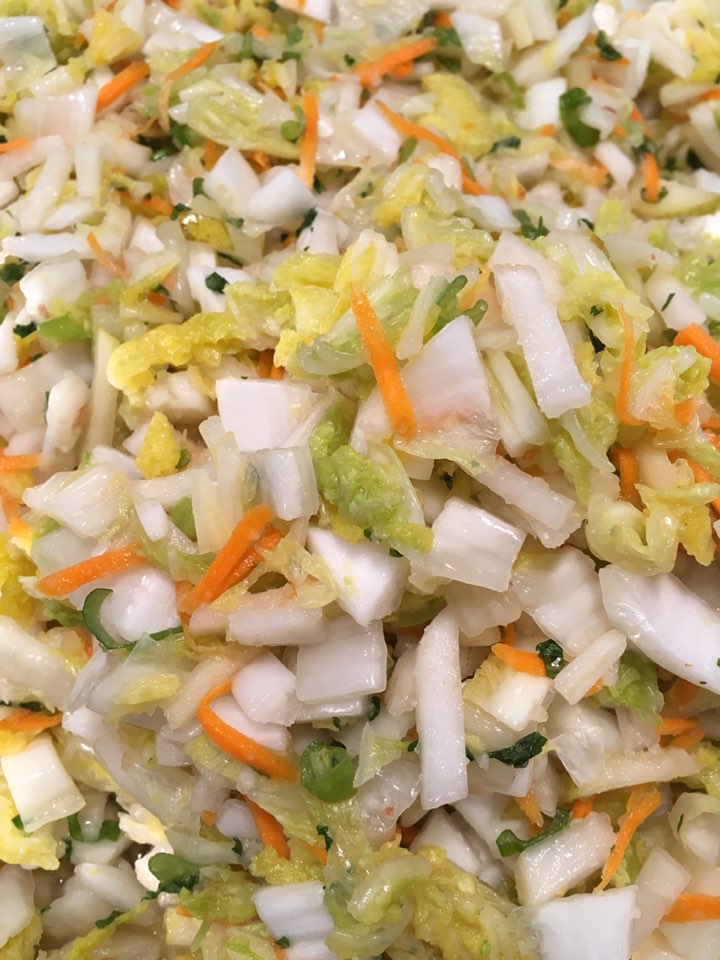 White Kimchi is made without Korean red chili powder, but still packs the same tangy, crunchy flavor. To add a little extra complexity, we add fresh pear and cilantro prior to fermentation. Great for those who want a sour, pickled side dish loaded with antioxidants and probiotics that's easy on the stomach, thanks to the lack of hot spiciness found in red kimchi.
Cucumber Kimchi 오이 김치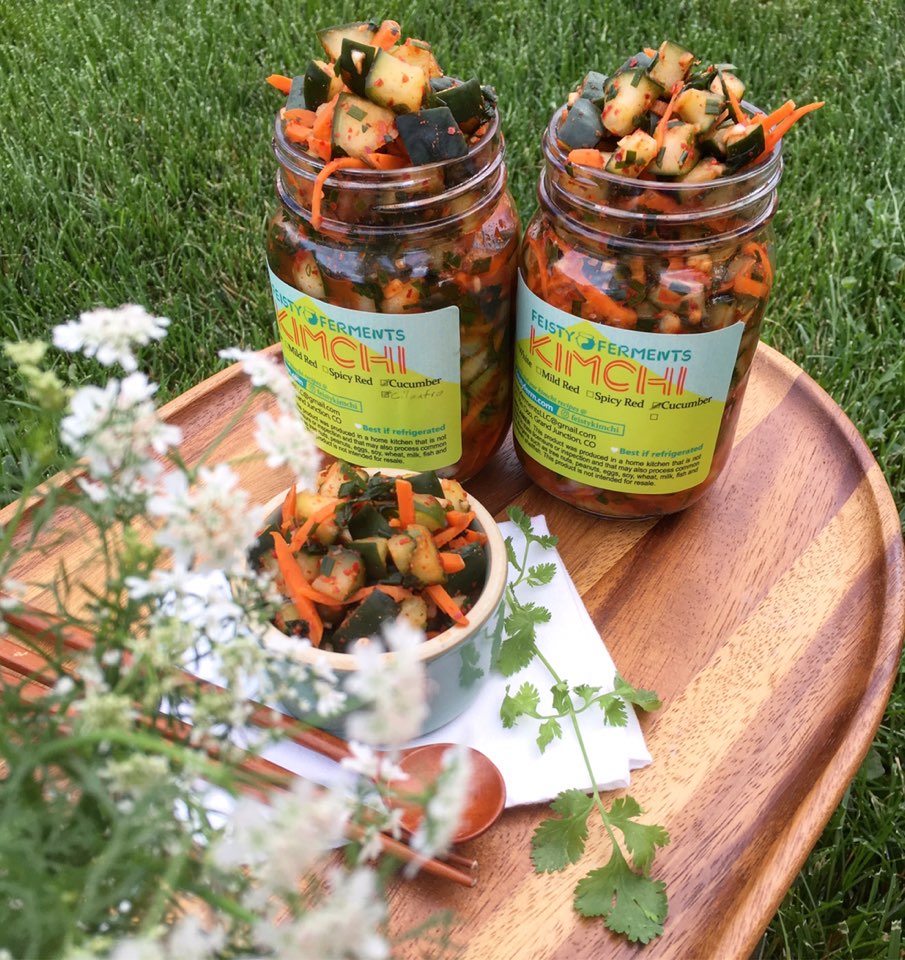 A satisfying crunch is delivered as the cucumber takes center stage with this spicy and sour kimchi made with chives and cilantro. Cabbage free and much more interesting than your standard cucumber pickle, enjoy this vinegar-free cucumber kimchi that's packed with nutrition as a live food!
Radish Kimchi 깍두기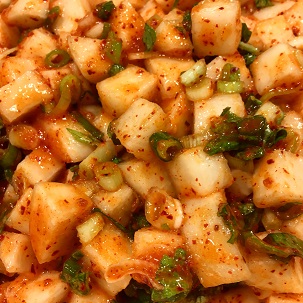 Deliciously tangy and spicy cubes of daikon radish meet the traditional onion, garlic, and ginger flavors in our version of Korean kkakdugi, or radish kimchi. Like our cucumber kimchi, this dish is made without cabbage, allowing the crunchy radish to take center stage. A great side dish for any hearty meal.