Feisty Recipes - A Few Ideas for Enjoying Our Products
Kimchi – 김치 - General Tips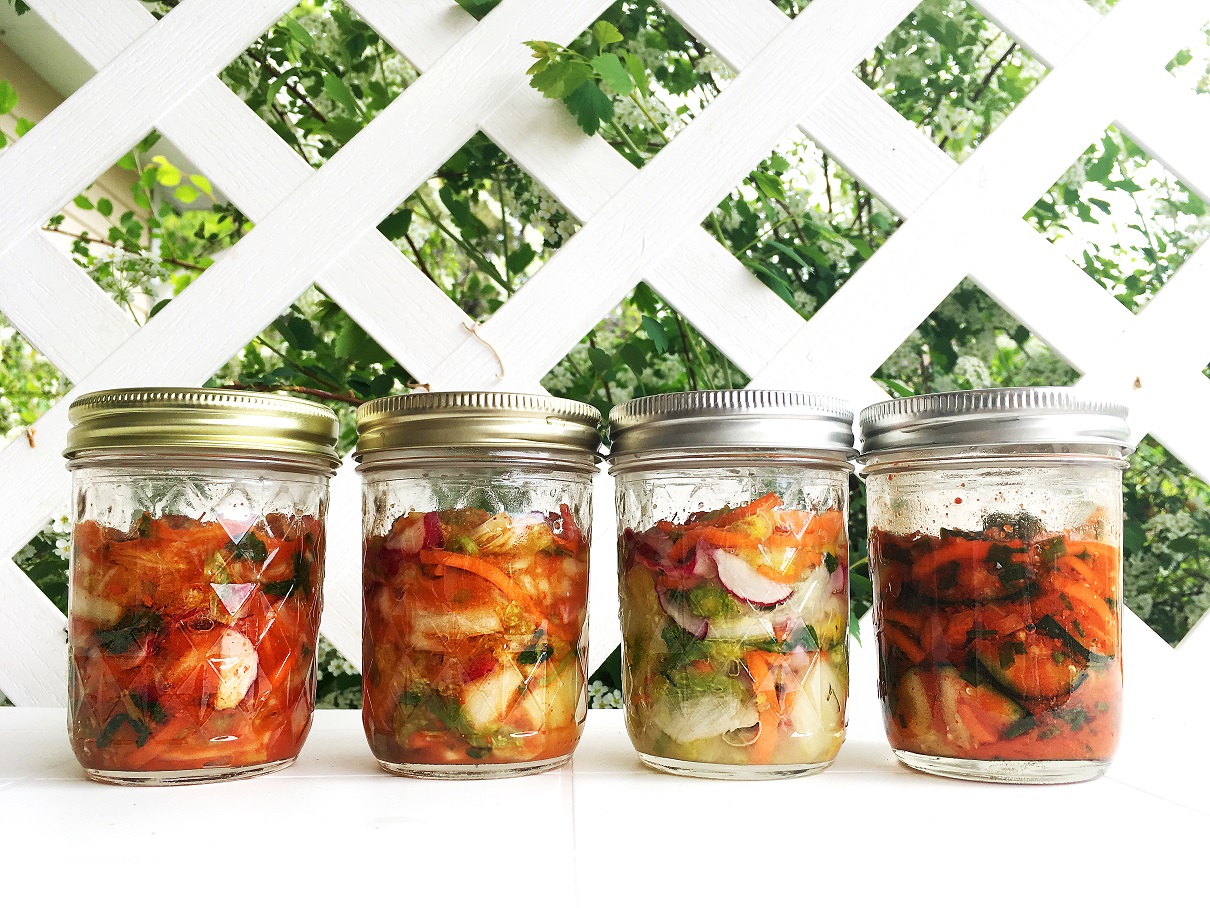 Feisty Ferments Kimchi is a naturally fermented, vegan, artificial preservative free, non-pasteurized product that contains active probiotics and is very much alive! While our kimchi is shelf stable at room temperatures, storing it in the refrigerator will prolong its shelf life and slow the active fermentation, which creates a sourer kimchi over time. At normal refrigeration temperatures, kimchi will continue to slowly ferment and may become sourer after 2-4 weeks.
Before storing kimchi after use, press the kimchi down in the jar so that all the vegetables are submerged in the liquid brine. This will prevent mold from forming, excessive drying from occurring, and will help keep the taste consistent. Scrape off and discard any kimchi on the top that appears moldy or discard the kimchi entirely, depending on your comfort level and the age of the kimchi.
Souring Kimchi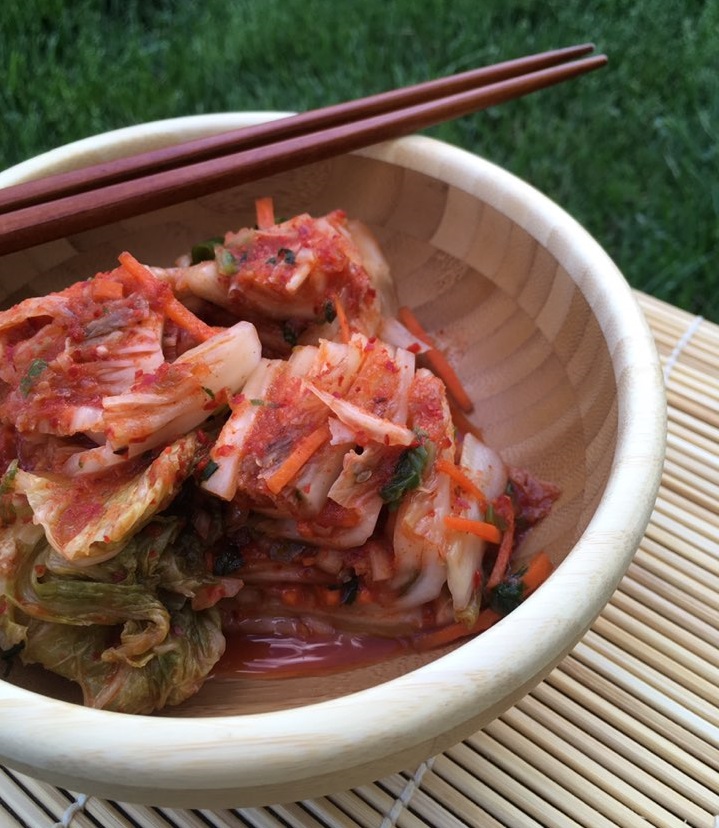 If you prefer a sour kimchi over a fresh kimchi, try leaving the jar at room temperatures for about 6-8 hours. After it has been left out, be sure to open it over the sink (use caution: kimchi is actively fermenting; pressure may build up from the released of carbon dioxide due to natural fermentation) and taste the kimchi. If it isn't as sour as you'd like, repeat these steps until it reaches your desired level of sourness. Then, store in the refrigerator to slow the fermentation process.
Kimchi will sour in about 2-4 weeks at normal refrigeration temperatures. Storing it at freezing (32 degrees Fahrenheit, 0 degrees Celsius) will keep kimchi fresh for much longer. The salty brine will keep it from freezing at this temperature.
Enjoying Kimchi
Feisty Ferments Kimchi is delicious as a side-dish by itself, traditionally served with rice. Since it already packs a lot of flavors and spices, it can also be used to enhance many other dishes:
Kimchi jjigae (김치찌개) – Soup or stew made with kimchi. Boil your favorite ingredients (potatoes, onions, beans, tofu, etc.) in water to make your favorite soup. After the ingredients are fully cooked, remove the soup from the heat and add ½ - 1 cup kimchi to the soup per serving. Adding the kimchi after boiling helps ensure the live probiotics remain within the soup and into your body. Traditionally, kimchi is cooked for a long time with other ingredients to have a thick and kimchi flavorful soup, but we prefer to add kimchi at the last moment to ensure the live probiotics remain in the dish. Garnish with spring onions, cilantro, and/or toasted sesame oil. Serve with rice or noodles.
Kimchi bokkeumbap (김치볶음밥) – Kimchi fried rice. A great way to use left over rice, beans, and vegetables. Fry kimchi, ½ - 1 cup kimchi per serving, in oil (we recommend toasted sesame oil) for 5 min and set aside. Fry your favorite ingredients (garlic, onions, carrots, peppers, broccoli, tofu, mushrooms, etc.) in a small amount of oil until cooked. Add the previously fried kimchi and steamed (or leftover) rice. Optionally, add kimchi brine to enhance the flavor. Fry for a few minutes until warmed. Remove from heat. Alternatively, add the kimchi after removing the frying pan from the heat to help ensure the live probiotics remain within the dish. For a more traditional dish, fry kimchi with sesame oil per the first step.
Kimchi kimbap (김치김밥) – Seaweed wrapped vegetable roll. Similar to sushi but without raw fish, kimchi kimbap is great for a meal on the go. Use a sushi-type seaweed roll (김) and add rice with your favorite ingredients (cooked carrots; pickled radish, cucumber, or beet; fried tofu or tempeh; steamed spinach, celery, or sprouts; etc.) with kimchi and roll into a long cylinder. Cut the roll into small bite-sized pieces and eat fresh or pack for a picnic lunch or hiking.
Kimchi burrito (김치 부리또) – Use stir fried kimchi as an ingredient in your burrito. When frying kimchi, use any kind of frying oil, cooked beans, tofu, spring onions, or mushrooms that will go well together.
Kimchi Ramyun (김치라면) - Kimchi ramen noodles – Level up your ramen noodles by adding kimchi while cooking any kind of ramen noodles.
Dubu Kimchi (두부김치) - Tofu & Kimchi – Add tofu (cut to bite size) in boiling water. Remove after 5 min. Stir-fry kimchi with oil (we recommend toasted sesame oil), spring onions or cilantro, and sesame seeds (if you have any leftover, cooked potatoes, add it!). Fry until kimchi is not too dry. Serve with hot tofu on a plate.
Kimchi Buchimgae (김치부침개) - Kimchi pancake – 1 cup flour (any type), ½ chopped zucchini, ¼ cup onions, ½ cup kimchi, ½ cup water or kimchi juice/brine (the kimchi brine increases the color and flavor). Mix. Add oil to a frying pan with medium heat. Pour one scoop of batter, cook on both sides. Kimchi pancakes are a great side dish for alcohol.